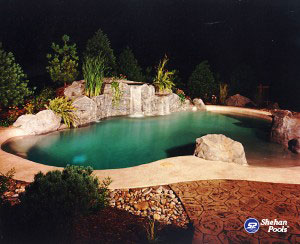 Shehan breaks the mold with our custom pools so that each person that dives in enjoys a moment of true escape and relaxation. Go beyond the traditional look of other inground swimming pools, and invest in a lagoon pool that looks and feels like a sliver of the tropics in your home or business.
What is a Lagoon Style Pool? Tropical Pool Designs
A tropical pool is not your average backyard pool. This type of design will showcase:
Intricate lighting to showcase the water and pool floor to look and feel like you're swimming in the tropics
Complex use of rock and stone to emulate natural-style settings
Various Aquatic features, such as waterfalls to invite the swimmer to a true outdoor aquatic experience that allows the swimmer to escape into paradise
If the idea of pools with waterfalls intrigues you, do not consult with just any designer who creates inground swimming pools. Instead, consult with Shehan, the industry leader in pool design and creation for a gorgeous, high-performing and exquisite pool that will bring pleasure for the years to come.
Get started today at (859) 371-9193.