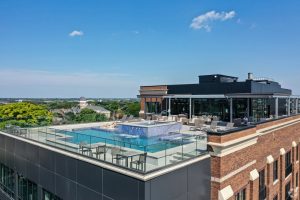 Make your guests, clients or members jaws drop with a custom designed rooftop swimming pool like they've never seen! Shehan is the pinnacle of commercial and residential pool construction. With an expansive national and international clientele, our pool designs are living pieces of art.
Building a Piece of Eden: Commercial Pool Construction
The competition can't hold a candle to our durable, stylish and trend-setting commercial pool construction. Shehan offers a variety of services for both residential and commercial clients looking for the crème de la crème of indoor or outdoor rooftop pools.
We:
Design jaw-dropping pools
Install your pool aspirations with high-level craftsmanship
Maintain our originally designed pools to last for a lifetime
Premiere Residential & Commercial Pool Builders
We are not your average commercial pool builders. At Shehan, we create places of paradise, breathing life into your commercial business or residence.  Whether you're a hotel, B&B, spa, or residence looking for a rooftop pool that showcases luxury and relaxation, you can count on Shehan to deliver a most exquisite custom rooftop pool like no other.
No matter the design—mini indoor rooftop pool to resort style, our team is committed to delivering you the pool of your dreams.
Choose Shehan for your commercial or residential rooftop pool. We're not just a pool construction company—we're dream makers, bringing luxury and life to your business or home.
Reach out to let our master pool builders build your rooftop dreams today at (859) 371-9193.