Luxury Spa Designers For Residential & Commercial Properties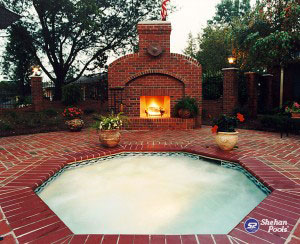 Each custom spa designed by Shehan is distinctively its own masterpiece.
Each outdoor spa whether created for private luxury or for commercial benefit is its own unique entity—because as spa designers,
We specialize in creating one of a kind luxury experiences.
We deliver the escape you or your clients are looking for.
We transport you to another world, an aquatic paradise.
More than spa builders, we consult with our clients as spa architects; creating the exact atmosphere they want, whether it's a green lush atmosphere, a Hawaiian escape, or homage to ancient Greek architecture. If you dream it, our spa builders will flesh it out from the very first time the land is struck, until it's ready for your enjoyment.
The Outdoor Spa Experience
When you invest in the in-ground spa experience by Shehan, stress is replaced with relaxation for yourself and those you love most.
As spa builders,.we have the experience and creativity to design the spa of your dreams.
Water features, color, tile, green structures, design, and size—you name it…we will build it.
Let the amazing possibilities of a Shehan in-ground spa inspire you. View our gallery today.
Are you ready for your own piece of Atlantis? Call Us Today: (859) 371-9193