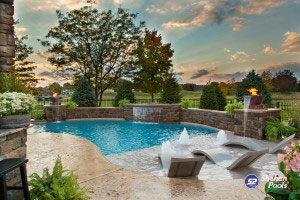 If you've selected Shehan as your pool designer, have you considered the endless options of our various water features? Whether it's a rain curtain or you're enchanted by one of our pool fountains, we design and create aquatic experiences destined to take you to a place of relaxation and enjoyment.
Pool Water Features: Customize Your Aquatic Experience
Shehan believes that we aren't just building pools— we're building aquatic worlds for our clients to step into, and away from the stress of the daily grind. With our vast and customizable selection of pool water features, your pool will be one of a kind.
Do you want the rushing jolt of swimming pool waterfalls to create a rustic and outdoor feel to your pool?
What about a tropical and romantic rain curtain, spraying on you as you glide through the water?
Our majestic pool fountains dancing on the water's edge will truly take your pool to a whole new level.
The possibilities are endless.
See how our pool water features can give you the aquatic experience you are dreaming of.
Call Us Today: (859) 371-9193