By The Masters: Luxury Infinity Pool Styles & Beyond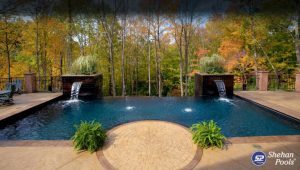 Shehan leads the industry with imaginative and trend-setting swimming pool designs.Known for luxury infinity pool styles or what is also known as the "vanishing edge pool," Shehan builds dreams in water.
Vanishing Edge Pool: Water With No Boundary
If you desire a unique piece of paradise in your residence or place of business, consider the boundary-less possibilities of an infinity pool. Infinity pools give the impression of water is merging into the landscape or another body of water such as a pond, lake, or ocean, creating an awe inspiring tranquil setting like no other.
With such an intricate design, you must be wondering how do I find the best pool builders near me? Look no further. Build your water oasis with Shehan, luxury pool builders who set and break the trends in pool construction and design.
Call (859) 371-9193 for your consultation. Imagine the endless possibilities with a Shehan Infinity pool today!