University of Kentucky Football Alum Bob Shehan Builds Pool for New UK Football Training Center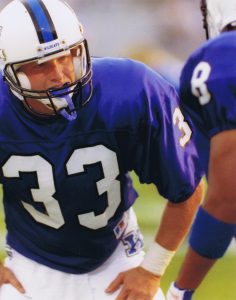 University of Kentucky alumnus Bob Shehan of SP Construction, LLC, the award-winning global leader in exquisitely crafted pools and aquatic environments, recently enhanced the University of Kentucky's (UK) new Football Training Facility with a cold plunge pool (cryotherapy pool), which was unveiled to the public on July 21, 2016.
Designed to reduce muscle inflammation and pain after exercise and speed up recovery time, the cold plunge pool is the fourth Shehan pool in place at the university. It measures 10 ft. x 40 ft., has room for up to 40 players, is always kept at 52 degrees and is essential to the post-practice recovery process.
According to Bob Shehan, Vice President of Sales of SP Construction, LLC and former wide receiver for UK, "We've come a long way from the stainless steel tubs of the past. Instead of being confined to a small space with trainers on hand to pour ice inside, today's players can enjoy a large pool at their leisure, moving around freely, sitting on the built-in bench or walking through on their way to the locker room."
The Shehan cold plunge pool is an integral part of the new $45 million Kentucky Football Training Facility, which was unveiled to players on July 21, 2016 after 19 months of construction. Located adjacent to Commonwealth Stadium and the Nutter Field House, the facility features training areas, weight room space, a hydrotherapy room, a nutrition bar and much more. The public is urged to tour the center and the new cold plunge pool at no cost on UK's Football Fan Day, August 6, 2016.
Seasoned experts in custom-tailored swimming pool installation and design, Florence, Kentucky-based SP Construction, LLC has been a leader in the industry with a reputation for visionary design, superior craftsmanship and exceptional service.  For more information about UK football and the new cold plunge pool in the Kentucky Football Training Center, visit ukathletics.com.