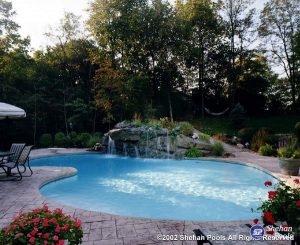 If you've been searching the various pool companies in Louisville, KY, you probably have already heard about Shehan Pools!
Shehan stays on the cutting edge of pool designs from commercial to residential gunite swimming pools and beyond, we don't follow trends—we set them.
From drafting the first designs to installing your pool, Shehan prides itself on giving our clients a stellar customer experience in all aspects of the pool process.
Gunite Swimming Pools: Discover The Best Louisville, KY Pool Builders
No matter whether you're looking for a lazy river pool, a small custom spa or a rooftop pool, Shehan has done it all!
Among all the competition in Louisville, KY, pool builders are easy to find, but pool "designers" like Shehan are not. These are just some of the services we offer our clients:
Unique Pool Design based on your inspiration or ours. From our world travels to your Pinterest discoveries, we create unique pools that are perfect for your needs, always using the latest technologies in pool creation
Pool Installation with high-level experts and one-on-one consultations to ensure your pool or spa is installed to your satisfaction.
And when you hire pool designers like Shehan, you get what you pay for: immaculately made, stunningly designed pools and spas that last a lifetime.
Our portfolio of work made in, around, and beyond the Louisville, KY area includes:
Infinity Pools
Swim Spas
Lazy River Pools
Commercial and Residential Pools of all kinds
Rooftop Pools
Lagoon Pools
Custom Spas
And more
Whatever you can possibly imagine, we can build it. To start building your dream pool in the Louisville, KY area, contact us for a consultation at (859) 371-9193.